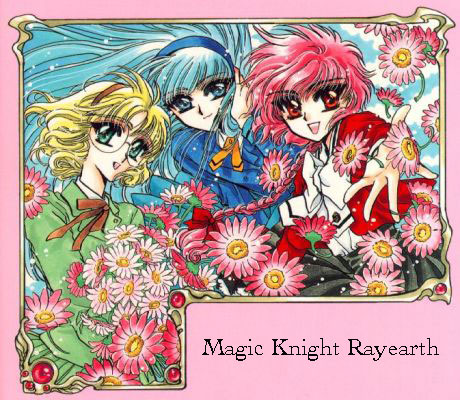 Welcome to my mini shrine to Magic Knight Rayearth. In the above picture you see the three main characters of the anime/manga - from left to right - Fuu, Umi, and Hikaru. However, as anyone who has looked at the Get Backers shrine has probably figured out, I rarely like the main hero/heroine types, so this will be mainly about Zagato and Princess Emeraude.
Images:
My Thoughts:
Princess Emeraude
The princess is a rather interesting character. In the early part of the series I hated her. She was the classic, cliched, blond haired epitome of goodness. I wanted to stab her with a sharp pointy object. Seriously. But as the series went on I started to hate her less. As more of her back story is revealed Princess Emeraude becomes an immensly better character. Although I still fail to see what Zagato saw in her...
She starts out sounding like "Oh magic knights, save me from the bad Zagato who suddenly kidnapped me!" But when you find out that she summoned the magic knights to kill her, it makes me view her in a different light. As is stated throughout the manga (and probably the anime too, but I haven't seen all of that yet) this girl pretects the happiness of Cephiro, but who is there to protect her happiness? Emeraude couldn't live with the fact that she was supposed to love Cephiro most, when she loved Zagato more than anything. Let's face it, I'm a sucker for love stories.
---